Our Product Fresh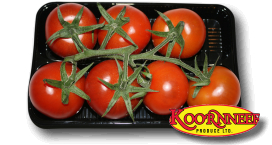 Koornneef Produce
At Koornneef, we believe in tradition. Our roots as a supplier of superior vegetables and tender fruits reach back more than five decades, when our father Arie Koornneef began selling choice tender fruit to customers out of a pick-up truck.
Our Philosophy
From the very beginning, our father built on a simple philosophy. He believed that if you built your reputation on excellent produce backed by a personal commitment to talking care of your customers, you'd always have a thriving business. Well it turned out right!
Southern Ontario's Premier Supplier
From those humble beginnings, Koornneef Produce
Ltd. has grown to become one os southern Ontario's premier suppliers of tomatoes, cucumbers, peppers and tender fruit.
What they say

Our Commitment!
Today the Koornneef fleet delivers exceptional produce twelve months a year to a growing number of customers across North America! And while much has changed our commitment remains constant.
We are proud of our product!
The vegetables and tender fruit that bear the name of Koornneef are unrivalled in quality, freshness and a taste. Equally important, the relationships we build with our customers continue to reflect the highest levels of integrity, commitment and trust!
Contact us
We at Koornneef take great pride in all of our quality produce and assure 100 percent satisfaction! If you have any questions or concerns please don't hesitate to contact us anytime. We are more than glad to hear from you.